*** If you have not been receiving my feed it is because I jacked it up royally. So please be a dear and sign up again!
I have been messing around with my painting aesthetic lately and I think I may have settled into my groove. Mid-Century Ginchness. I'll let you cats google that for a history lesson in 50's slang.
My guy bought this mid-century radio/record player at the Goodwill for me. He knew I would totally dig it.
The turntable had a 78 Polka record on it but it was stuck on a 33 rate so it basically sounded like when they said you could play Beatles records backwards and you heard the Devil. OK, not that bad but it was probably about the tempo of a polka at the neighborhood nursing home.
Soooo, it had to go. But now we had a vast sink hole to fill. I am not a drinker so I am a little baffled that the first thing to pop into my mind was a mini bar. But if the shoe fits. Well gave me fits getting that thing out so I had to keep going with it and thus began my search for shots. It's a seedy world out there.
But first let's see what the gig is with the new paint job, shall we Daddy O?
I went with colors reminiscent of the era. Brings back many a fond memory of some kitchens doesn't it.
I kept some of the wood showing since I loved vibe it was throwin' off.
Thank goodness I didn't have to search too hard for my mini bar stash. The Goodwill gave it up yet again and provided me with a cool ice bucket and shot glasses combo.
I cut a piece of craft wood to size and then used a jigsaw to cut out the circle for the ice bucket to fit down inside.
So in one little package, you get hot plates and cool sauce.
Now it's time for me to pile up some Z's…..
Comment below if you figured out all my slang twang….
Always being renewed,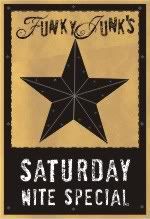 http://www.remodelaholic.com