If you visited my blog yesterday then you saw that I featured my friend "C" who did some super crafty/DIY things in her house. BUT she is not a blogger and has no desire to become a blogger but it got me thinkin'....and we all know how dangerous that can turn out to be.....there are people out there who do not blog but I know are creative but they have no desire or time to show others and inspire others.
So everyone you don't have to be a blogger to have talent! We all have secret talents that are worth having someone shout about. And I love to shout so if you do something but don't have a platform like a blog to post ad tell others about it.....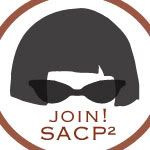 You can join my new club!
The
Secretly Awesome Crafters Protection Program.
The SACP
²
! This club is for people who don't write a blog but still want to show off their crafty/DIY self.
You can email me a photo of anything you have made or done and I will feature it!
How about it?
You can even choose a super secret cool spy name if you want!!
I went to
blogthings
and took their spy name quiz. My international spy name turned out to be Baby Frost. Code name The Pilot and I reside in Venice (how to they find these things out??!!?? it is not supposed to be a known fact!) and apparently I'm very agile.
I think my spy name will be Cassie Junkalicious, code name the Junkanator, I'll visit Venice..... someday, and I am a good crafty spy because my brain is addled
in a good way
if that is possible.
So the good part about this is I will feature non-bloggers, once a month and guess what everyones photo will get highlighted!!
When emailing your photo (s), please include your name and your spy name for fun or if you really wish to remain anonymous!
I am super excited about this because not only do I think this will be fun, but I think the blogging world is missing out on a huge amount of inspiration from the secret spy world of non-bloggers, hence and forever after called the SACP
²!
Mission #1: If you are a blogger, please feel free to post about this. I know you all have much bigger audiences then I do and it will get the word out faster. And it might even help to propel you higher up in the "organization". If you are not a blogger then, p
lease, please, please pass this on to as many people as you can, then burn the post to destroy any paper trail.
Now help me come up with a secret handshake okay people!
If leaving a comment, please do not forget to leave your email so I can respond to you.
Always being renewed,